WaterStreet Company understands that P&C Carriers are burdened with a high volume of action items and verification procedures to properly manage the policy lifecycle. We offer a suite of back office and support services designed to accelerate the process and keep your agents and underwriters focused on delivering high value service to your clients.
WaterStreet Services Guide
Learn more about WaterStreet Company services for Property & Casualty Insurance carriers and MGA's in our Services Brochure.
View All Brochures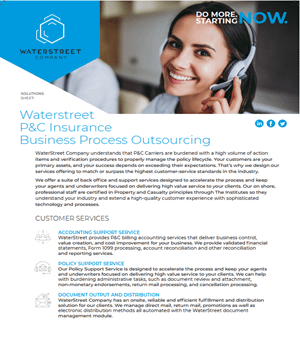 Download Services Guide
Accounting Support Service
WaterStreet P&C licensed professionals handle accounting and billing services such as payment processing, lockbox, and flexible billing and collections, daily reconciliations, commissions, and Escheat & 1099 services.
Learn More
Print & Finish and Distribution
WaterStreet has on onsite print and mail center to manage direct mail, return mail, promotions as well as electronic distribution methods all tied into the WaterStreet document management system.
Learn More
Policy Support Service
WaterStreet policy support includes document review and attachment, non-monetary endorsements, return mail processing, and cancellation processing.
Learn More
Customer Service Call Center
Our customer service reps are P&C licensed and can assist your agents through phone, live chat, and email with rating, quoting, inspections, and other underwriting processes.
Learn More
"Having been with WaterStreet for a few months, I am very happy with the system and their services team and I know that Coastal American made the right partner choice."
Ned Dolese | President, Coastal American Insurance Co.